MathJumper

(Educational, Arcade)
lite & paid, android 2.01+ |
english, german

MathJumper is a platform scrolling survival game. To reach the next platform, you have to solve mathematical equations by drawing the solution on screen.

The game is lost if the character reaches the bottom of your display - but beware, it gets more challenging over time as the equations are becoming harder to solve and the scrolling speed increases!
MathJumper is both entertaining and educational, improving your arithmetic skills and keeping you mentally young.
Features:
3 difficulty settings (preschool, highschool, college)
5 different characters giving you score bonuses
Items to raise your chances of reaching a highscore
OpenFeint integration with many unique achievements to unlock
Challenging online highscore using OpenFeint ladders (calculate faster & better than your opponents worldwide)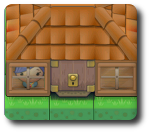 This game has a wide target audience from kids to seniors - whether it's just for fun, as a highscore challenge, math trainer to exercise your arithmetic skills or a daily workout to keep yourself mentally young.
Try out MathJumper LITE right now and download it on Android Market!